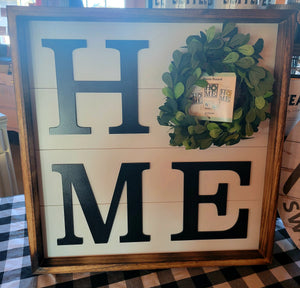 Large HOME Sign with boxwood wreath. Stylish, and commanding! Comes with a standard wreath that is hung on a simple black hook and can be easily changed out to update for the season. Use all year or change out wreaths with the seasons. Comes with wire across back for easy hanging.
24" x 24" sign is large and commanding.
1 3/4" deep stained pine frame.
Wreath "O" hangs on a hook that can be easily interchanged for the seasons.
White painted shiplap back with black letters.
***STORE PICKUP ONLY****