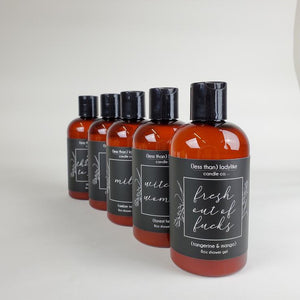 Scent Options
Fresh Out of Fucks - Tangerine, mango, and not giving a fuck.
Rich Bitch - Santal, coconut, and dolla dolla bills, y'all.
Go The Fuck to Sleep - Lavender and sweet dreams
Witchy Woman - Forest herbs and cleansing bonfires.
MILF - Amber, dark musk, and Stacy's mom. 
Ingredients
Water, Cocamidopropyl Hydroxysultaine, Sodium Lauroyl Sarcosinate, PEG-80 Glyceryl Cocoate, PEG-150 Distearate, Fragrance, Panthenol, Wheat Amino Acids, Glycerin, Salt, Citric Acid, Sodium Benzoate, Benzyl Alcohol, Cocamidopropyl Betaine, Laureth-4, Glycol Distearate.
Directions
Lather up in the shower, explode with desire, and rinse clean!