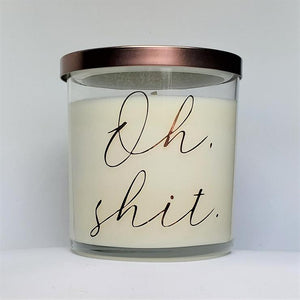 Oh, Shit.:
Got house guests? Then you need one of these! A bright fruity and floral scent for killing the funk without killing the vibe.
Smells like:
Mandarin, mimosa flower, green coconut.
What is it?:
These 8.5 oz candles are hand poured and packaged in small batches right here in our Virginia studio. Made with sustainably grown soy wax, carefully curated fragrances, and a whole lot of sass.